Share this
13th March, 2023
PUBLIC ANNOUNCEMENT
Attn:
The Inspector General,
Nigeria Police Force
The Director General,
Department for State Security
The General Public,
RE: NOTICE OF IMPERSONATION.
The attention of the Labour Party has been drawn to a statement "NOTICE OF IMPERSONATION BY MR KENNEDY AHANOTU, DEPUTY NATIONAL SECRETARY OF LABOUR PARTY (LP) TO DESIST FORTHWITH" published on Facebook by one Mr Eragbe Anslem.
Ordinarily, such baseless statements do not deserve our response but for the purpose of guiding our innocent supporters and new members who may be ignorant of Eragbe Anslems' SUSPENSION, and his continous misleading and controversial attitude.
Moreso, such statement did not emanate from any of the party's sanctioned channels of communication with the general public.
The Labour Party therefore want to make it categorically clear that Prince Kennedy Ahanotu remains the Labour Party's Acting National Youth Leader based on Party leadership decision in line with our constitution pending the final ratification of the Disciplinary Committee report on Mr Eragbe Anslem.
We therefore warn the general public to ignore any directive on behalf of the party given by Eragbe Anslem as such is never for the interest of the Labour Party.
By this announcement henceforth, Labour Party shall not be held accountable for any engagement or transaction officially or unofficially done with Eragbe Anslem.
Furthermore, every youth oriented communication and engagement or correspondence should be channeled through Prince Kennedy Ahanotu, our Acting National Youth Leader.
Thanks and God bless you.
Barr Julius Abure
National Chairman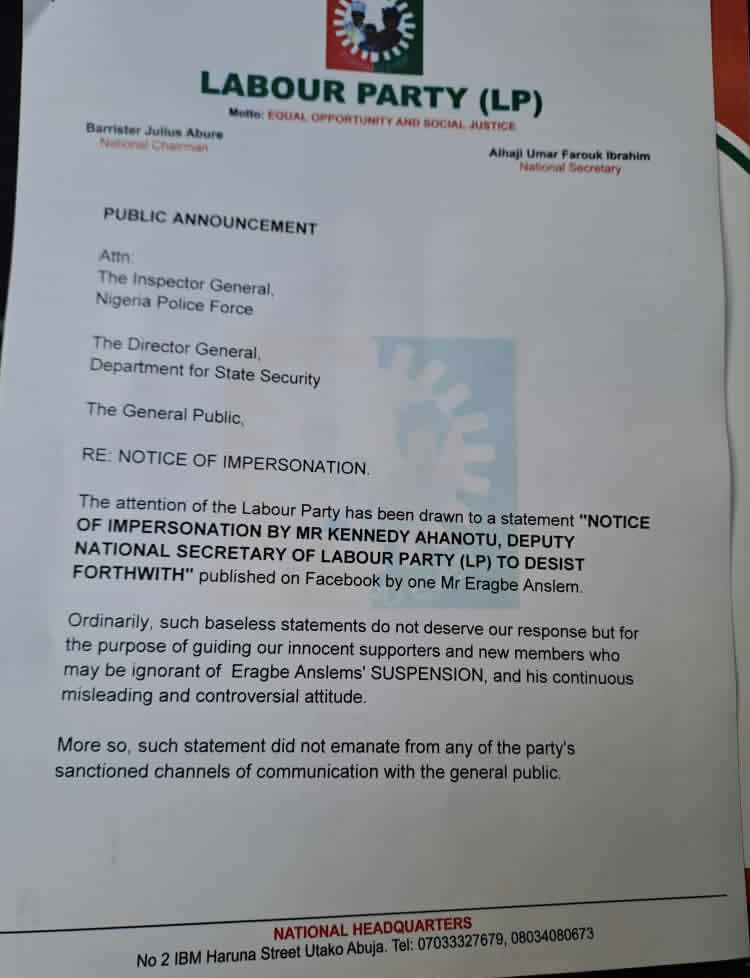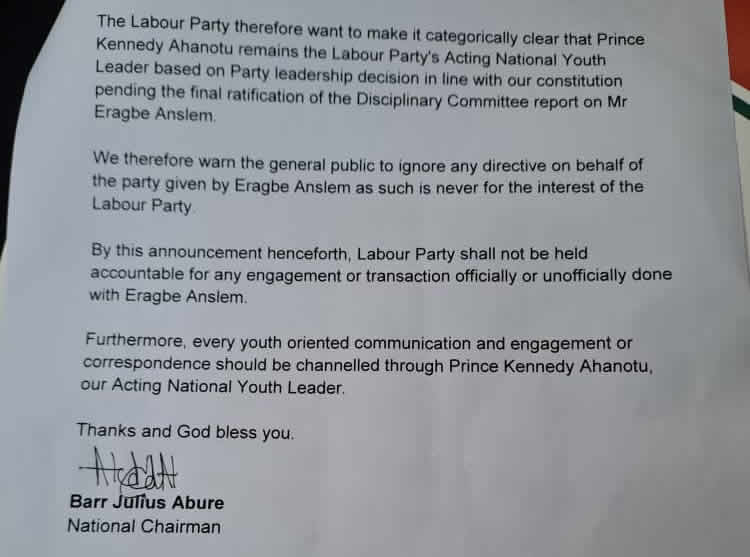 Share this